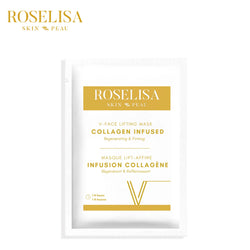 roselisa
V-face Collagen Infused Jelly Sheet Mask
Who: All Skin Types, Anti-aging, Large Pores, Sunspots
What: Firming & regenerating Jelly Sheet Mask
Where: Chalk Salon & Co.
When: The sooner the better!
Why: The Roselisa V-face mask is designed to lift and tighten the skin while softening wrinkles, lines, and texture It helps smooth your skin and restore a more youthful appearance. It delivers a tightening sensation that will help firm and contour the face and neck creating a more sculpted appearance.
How: After cleansing, remove the pearlescent paper on the mask sheet and apply the
collagen gel to the face. Pull the two ends behind the ears and adjust
them to a comfortable position. Use One sticker per day for 1-8 hours at a time.