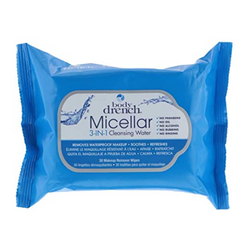 Micellar 3-in-1 Cleansing Water Wipes
Who: All skin types
What: Facial cleansing wipes
Where: Chalk Salon & Co.
When: The sooner the better!
Why: Micellar solution is an all in one product that cleans, soothes and refreshes. These wipes are jam packed with this oil, alcohol and paraben free formula making it perfect for sensitive skin types. It effortless removes makeup, even waterproof without drying out your skin.
How: Use any time of day to cleanse face or remove makeup.