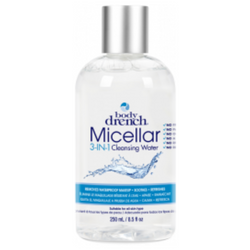 Micellar 3-In-1 Cleansing Water
Who: All skin types
What: Facial cleansing water
Where: Chalk Salon & Co.
When: As soon as possible!
Why: Micellar solution cleans, soothes, and refreshes all in one product. It is oil, alcohol and paraben free making it perfect for sensitive skin. It gently and effortlessly removes makeup without drying out your skin.
How: Apply to cotton wipe. Gently wipe off makeup from face and eyes.