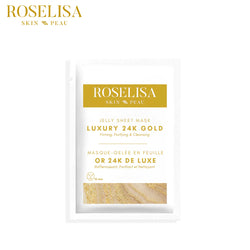 Roselisa
Luxury 24K Gold Jelly Sheet Mask
Who: All Skin Types, Anti-aging, Large Pores, Sunspots
What: Firming, Purifying & Cleansing Jelly Sheet Mask
Where: Chalk Salon & Co.
When: The sooner the better!
Why: This sheet mask is made with 100% high-quality ingredients, it's rich in vitamins & micronutrients, it improves, repairs, and hydrates skin and all masks are vegan & cruelty-free!
How: After cleansing and toning, carefully open the sheet mask pack and apply the mask
evenly onto the face. Leave on for 15-20 minutes. Before discarding, pat any excess serum into the skin.