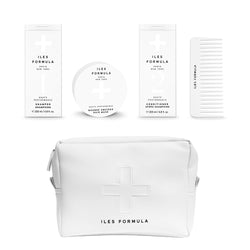 Who: All hair types
What: Shampoo, Conditioner, Hair Mask and Conditioner Distribution Comb
Where: Chalk Salon & Co.
When: As soon as you can get your hands on it!
Why: Everything you need for an indulgent spa experience and nourished, strengthened hair. Presented in a soft, faux leather beauty bag.
How: Step 1/ Apply the ILES FORMULA signature Shampoo. Add more water, not more products to get a sumptuous lather. Formulated with the most exclusive antioxidant-rich ingredients, the shampoo repairs your hair instantly and is sulfate-free, paraben-free and silicone-free.
Step 2/ Apply ILES FORMULA signature Hair Mask to scalp and hair shaft. Vitamin infused with plant extracts, vitamin E, panthenol and B5, this mask was developed through extensive research to strengthen and nourish all hair types.
Step 3/ ILES FORMULA signature Conditioner is the raison d'être for the entire collection. This paraben-free formula instantly repairs damaged, straw-like textured hair into a sumptuous spun silk perfection. It's the perfect formula to terminate the Iles Formula spa treatment with, as it will seal into the hair shaft all the nourishment and strengthening qualities delivered.
Apply to mid-length and ends then using the Conditioning Distribution Comb supplied, comb through the conditioner. This comb will deliver to the roots the good amount of product required. On completion of combing (or wet brushing ), your hair will be completely rejuvenated. The sensation will be lustrous silk even while wet!