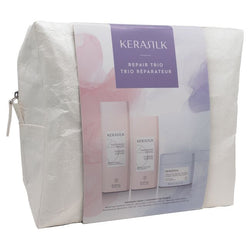 Kerasilk Repair Trio Holiday Set
Who: Dry, thirsty, stressed and damaged hair; bleached or chemically-treated hair
What: This holiday gift set has everything you need to repair your hair!  
Where: Chalk Salon & Co.
When: You needed this like, yesterday!
Why: Here are just a few of the reasons why you need it:
Moisturizes and regenerates
Reduces brittleness, hair breakage and further damage
Removes dirt, sweat, oil, pollution and product buildup and is gentle on the scalp
Neutralizes hard water to prevent mineral buildup and maintains hair in a balanced neutral state
How: 
Shampoo: Lather & Rinse
Conditioner: Massage into hair. Indulge for 1 min. Rinse.

Recovery Mask: Massage into hair. Indulge for 5 min., or longer if desired. Rinse.