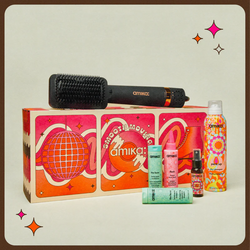 Smooth Talker Straightening Blow dry Brush Set
Who: All hair types
What: This psychedelic set includes every step of your smooth blowout routine!
Where: Chalk Salon & Co.
When: As soon as you can get your claws on it!
Why: This value set has everything you need for a smooth blowout, all the way from washing to styling
How: Massage the kure bond repair shampoo through wet hair then rinse. Next, apply the kure bond repair conditioner from mid-strands to ends then rinse. Squeeze excess water out of hair, then apply flash instant shine mask from mid-lengths to ends. leave on for 60 seconds then rinse. Towel-dry hair, then evenly mist the wizard silicone-free detangling primer through hair. Brush through. Select your desired setting on double agent by twisting handle to the right. Glide double agent through hair section by section, making sure you're not applying the bristles directly onto scalp.  For a sleeker look, use the 3rd setting until you have desired results. Keep style fresh by spraying perk up dry shampoo 8 inches away in a sweeping motion.